About Realme Buds Q Bluetooth Headset Product Description
| | |
| --- | --- |
| Product Dimensions | ‎4.5 x 6 x 3 cm; 35 Grams |
| Batteries | ‎1 Lithium Polymer batteries required. |
| Wireless communication technologies | ‎Bluetooth |
| Connectivity technologies | Wireless |
| Special features | ‎Wireless |
| Other display features | ‎Wireless |
| Colour | ‎Black |
| Battery Power Rating | ‎400 |
| Whats in the box | ‎‎Realme Buds Qx2(Left and Right), Charging Box x 1, Charging Cable x 1, User guide and warranty card x 1, Eartips(S,M,L) |
| Manufacturer | ‎Tiinlab Acoustic Technology Limited |
| Item Weight | ‎35 g |
| | |
Get the best of Realme Headsets at the best price.
Cobble-like Design
These earbuds feature a premium look with their cobble-like design and an advanced frosted texture.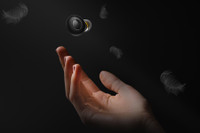 Lightweight
Each earbud carries a weight of 3.6 g, thereby making this set an easy one to carry around. Oh, and the lightweight design also ensures that you can wear these earbuds comfortably for a long time.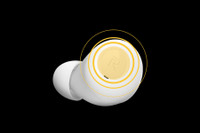 20-hour Total Playback Time
These earbuds offer 4.5 hours of single playback time! Oh, and with the charging case, you will get to enjoy 20 hours of playback time, so you can listen to your favourite tunes without any difficulty.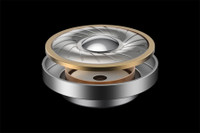 Bass Boost Driver
Featuring a 10 mm Bass Boost driver, these earbuds will pave the way for good sound quality and powerful bass. Oh, and these earbuds also support the AAC codec and the Dynamic Bass Boost, so that your aural experience remains exceptional.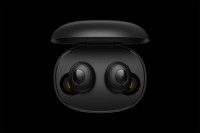 Bluetooth 5.0
Featuring the R1Q chip with Bluetooth 5.0, these earbuds will connect to your phone without any difficulty.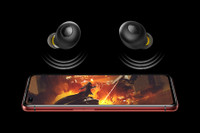 Super Low Latency Gaming Mode
These earbuds, with the Super Low Latency Gaming mode, will reduce the latency to 119 ms so that there's perfect sync between the audio and the video while you are playing a game or watching something.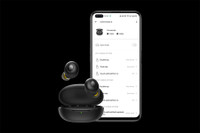 Intelligent Touch Controls
These earbuds can be operated easily as they support touch controls. You can double-tap to play or pause your music, triple tap to go to the next song, press and hold both sides for the Super Low Latency mode, and press and hold one side to end a call.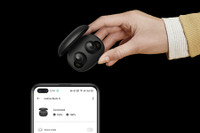 Link App
You can customize the touch controls of your earbuds easily with the help of the realme Link application.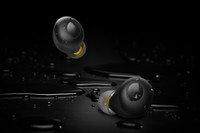 Water- and Sweat-resistant
These earbuds feature an IPX4 rating, thereby ensuring they remain protected from water and sweat.
Why Realme Q Earbuds to be bought from Kharidiye.com?
Realme Q Earbuds are no stranger in the world of Audio. The Realme Buds Q Bluetooth Headset offers you a total of 20 hours of playback.
So with small size the battery capacity is large. With 400 mAh, you get:
4.5 Hours, Single continuous music listening time.
5 Hours, Single continuous gaming time.
3 Hours, Single continuous calling time.
6 Hours, Single continuous video watching time
The Realme Q Earbuds has been designed aesthetically with a Cobble Design. The round shape of the cobble is a perfect fit for your ears. You will be addicted to its frosted texture, which feels like a cobble flowing in your hands.
The Weight of the earpods matter in your ears and that the lighter the earpod the better it is for the user to listen to songs. Weighing no more than 3.6g is made of light but strong PC+ABS special polymer composite.
The ergonomic coracoid structure can perfectly fit in the ear canal, providing comfort even when wearing for a long time.
You can experience Incredible Sound with the Realme Buds Q Bluetooth Headset. 
Realme Buds Q features a 10mm large Dynamic bass boost driver with premium PEEK&PU special polymer composite diaphragm. You get clear vocals in mid & high range frequencies as well as powerful bass for an incredible sound experience.
Get Instant Connection with Bluetooth 5.0 with Realme Q Earbuds 
The Realme Q Earbuds comes with a powerful R1Q chip that supports Bluetooth 5.0 technology. Therefore, you can connect Buds Q with your phone in the time you open the case and take them out.
With the Realme Buds Q Bluetooth Headset, enjoy shortcuts like:
Double-tap – Play/pause music | Answer a call
Triple-tap – Go to next song
Press and hold one side – End call
Press and hold both sides – Enter/Exit Gaming Mode
Realme Link App, Customize your Buds
The Realme Q Earbuds supports the all-new realme Link App, which adds Buds Q to realme's AIoT ecosystem. Open the App, and you are free to customize the touch controls of your Buds Q.
IPX4 Water Resistance, No Worries
The Realme Q Earbuds also features IPX4 water resistance to prevent sweat and rain from damaging the device, giving you full sense of reliability.
With this, we offer a wide range of Realme Earpods and Headsets for you to enjoy seamless music in your ears and enjoy the harmony of every music you play.
As said in the start that Realme are not stranger in the world of Music and Entertainment, here we show you more products of Realme products:
Realme Buds Wireless Pro with Active Noise Cancellation – It offers Active Noise Cancellation Upto 35db. 10,000 times Wire swing test. With Magnetic Auto Connection and with best bass mode.